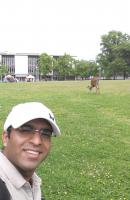 Hassan Kamalinejad is a PhD student at the Faculty of Law, University of Victoria. His research interests are international investment law and investor-State arbitration.
Hassan holds a Bachelor of Laws from the Razavi University, Mashhad, and a Master's in international law from the University of Tehran, Tehran.
Prior to joining the UVic graduate program, Hassan worked for the Litigation Department at the Centre of International Law Affairs, the governmental body responsible for dealing with Iranian transnational disputes. As a legal advisor, Hassan helped CILA handle its international commercial and investment cases. In this role, he researched and drafted memos, reports and pleadings; managed case data and documents; teamed up with business and legal experts; and collaborated with governmental departments and corporations on relevant cases.
At the Royan Institute, Hassan was recruited as a legal researcher from 2013 to 2014. The project he was working on explored legal and ethical aspects of cross-border reproduction. It discussed in length the issues of assisted cross-border reproduction in light of new technological advancements, commercialization of surrogacy and transnational commercial surrogacy contracts.
Before his employment at the Royan Institute, he was working as a legal expert at the International Law Office, Iranian National Broadcasting Organization. In that capacity, he was involved in some transnational commercial disputes. He produced negotiation documents, reviewed possible venues for dispute settlement and framed substantive arguments on the merit phase.
In another endeavor,, he was also a research assistant to Professor Djamchid Momtaz from 2013 to 2014 when Professor Momtaz was preparing his 2014 General Course at The Hague Academy of International law. He believes he has learnt a lot from him and will continue to learn.
From 2011 to 2015, Hassan put his legal expertise to use for the promotion of international law and human rights in Iran through engaging voluntarily in legal activities of the Iranian Association for UN Studies. Among other things, he participated in a team researching on the UN System and Social Health in Iran. He also acted as the managing editor of iauns.org and was a co-editor of UN Legal News.